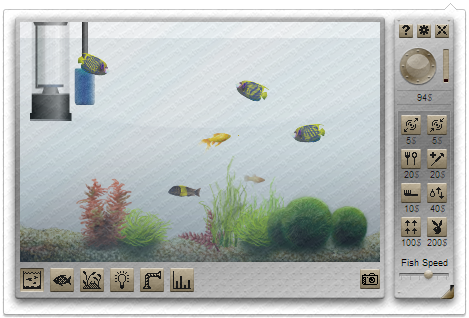 Aquarium simulation game.
SimAquarium is an aquarium simulation game – you can buy and sell fish, aquarium sceneries (plants, rocks etc), lighting and other things for your aquarium!
You can play with your fish, feed them and more. To earn money you have to breed and sell fish – there is 28 different species with different characteristics, some of the fishes are very rare.
With more money you can buy bigger and prettier fishes, more impressive aquarium decorations and better lighting. But the most expensive animal you can buy is not a fish – it's a dolphin!
Now you can get extra money from configuration every hour
SimAquarium Extension for Chrome
SimAquarium App for Chrome
SimAquarium Extension for Opera
If your fish not show just wait for second, close then open again.
Source Code https://github.com/xtrsyz/SimAquarium