Google Blokir Internet Positif Karena Malware
Internet Positif yang selama ini digunakan oleh pemerintah Indonesia untuk memblokir website yang mengandung konten dewasa hingga konten ilegal akhirnya diblockir oleh Google Safe Browsing. Jika anda membuka browser maka anda akan melihat situs yang beralamatkan internet-positif.org tersebut tidak dapat diakses.
This web page at internet-positif.org has been reported as an attack page and has been blocked based on your security preferences.

Attack pages try to install programs that steal private information, use your computer to attack others, or damage your system.

Some attack pages intentionally distribute harmful software, but many are compromised without the knowledge or permission of their owners.
The site ahead contains malware

Attackers currently on internet-positif.org might attempt to install dangerous programs on your computer that steal or delete your information (for example, photos, passwords, messages, and credit cards).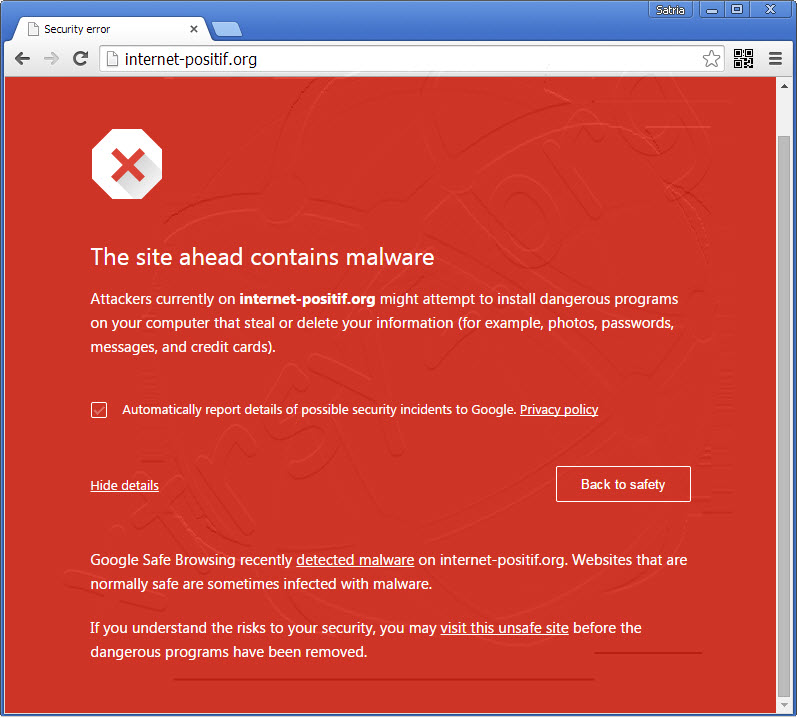 Berikut ini alasan kenapa Internet Positif diblokir oleh Google
What happened when Google visited this site?

Of the 88 pages we tested on the site over the past 90 days, 10 page(s) resulted in malicious software being downloaded and installed without user consent. The last time Google visited this site was on 2015-02-12, and the last time suspicious content was found on this site was on 2015-02-12.

Malicious software is hosted on 1 domain(s), including expertconnects.com/.

1 domain(s) appear to be functioning as intermediaries for distributing malware to visitors of this site, including 348north.com/.

This site was hosted on 1 network(s) including AS17974 (TELKOMNET-AS2-AP).
Setelah sebelumnya saya secara pribadi memblockir Internet Positif, akhirnya situs tersebut diblokir secara global. Karena situs tersebut tidak hanya memblokir konten ilegal, tetapi memblokir sesuka hati mereka.
Bahkan ada juga situs yang mempunyai trafik bagus diblockir dengan tujuan mendapatkan trafik untuk iklan yang dipasang pada Internet Positif.